Announcements
Dr. Taylor will be reading from Phantom Father: A Daughter's Quest for Elegy, and signing books at Orca Books in downtown Olympia, WA Saturday February 4, 2017 at 6:00 pm. Please join us for this event at Orca, an historic local bookstore. Phantom Son: A Mother's Story of Surrender, will also be available for sale and signing. See the flyer here.
Tuesday, February 7, 2017 Dr. Taylor will be teaching a memoir writing class at Saint Martin's University, Lacey WA with Dr. Jeff Birkenstein. It won't be open to the public (unless you enroll at SMU), but it will be fun to be back in the classroom with a group of writers.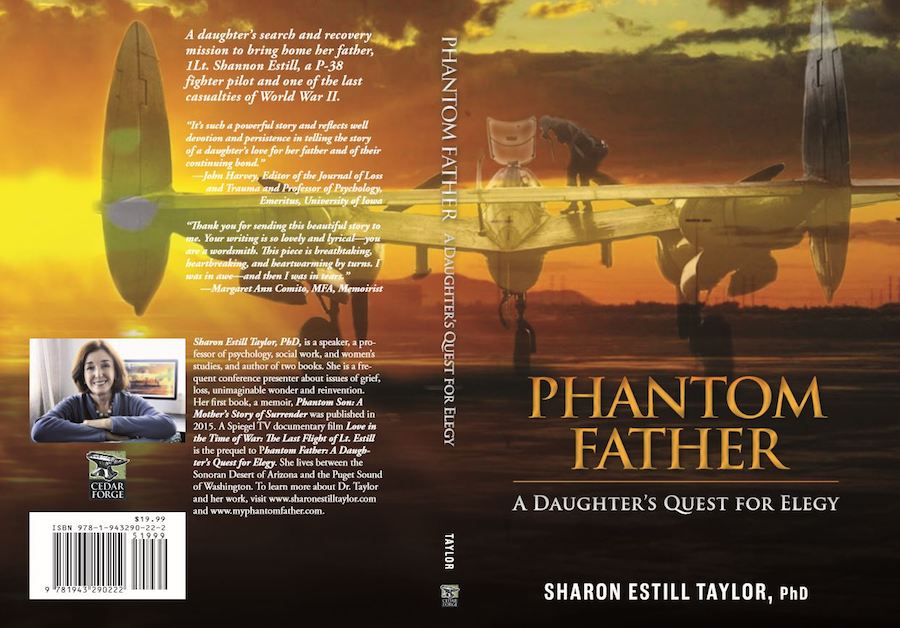 In her second book, Dr. Sharon Estill Taylor weaves the story of her decades long-search for and recovery of her fighter pilot father's lost WWII crash site.
Phantom Father is available on SeattleBookCompany.com, Amazon.com and from major wholesalers, Ingram, and Baker & Taylor.
In Phantom Father: A Daughter's Quest for Elegy, Dr. Sharon Estill Taylor courageously shares her quest to find and recover her fighter pilot father's crash site left behind at the end of WWII. Dr. Taylor transits the search with the help of her father's squadron mates, a brilliant German air historian, the US government, and Spiegel TV. She calls upon every known and unknown resource to discover her father's fate when he was the last man killed from his squadron on Friday April 13, 1945. With honesty, suspense, and candor, Taylor writes about her journey from the impossible to the possible, from the unknown to discovery and resolution, in this highly readable story.